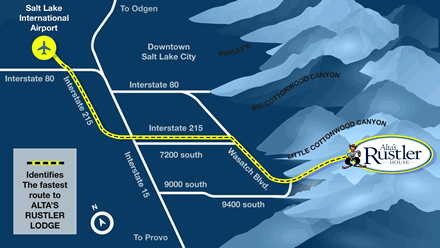 Getting to Alta's Rustler House
Alta's Rustler House is in an ideal location! Only 45-minutes from the Salt Lake City International Airport, with daily nonstop flights from more than 60 cities, you can take a morning flight from either coast and be skiing by the afternoon.
Shuttles
You can arrange for your transportation to the Rustler House through an independent van service, Alta Shuttle. Vans are available from the airport at 8:00 a.m. until 1:00a.m. They depart approximately every thirty minutes and cost $40.00 per person. If you wish to book a private vehicle, or if you arrive before 8:00 a.m. or after 1:00 a.m., the cost is $175.00 one way for 1-4 passengers, $225 for 5-7 passengers and $300 for 8-10 passengers. To make arrangements for this service please visit www.AltaShuttle.com or call 801-274-0225 (Alta Shuttle) at least 24 hours in advance. 
Once in Alta, there is a free daytime shuttle within the town of Alta that is provided by the UTA public transportation. Please call them at 801-301-0122 to be picked up at the Rustler House. They will take you to the base areas of Alta.
**Please note there are no grocery stores in Alta. Only a small general store located at the Snowbird Plaza**
Cars
Little Cottonwood Canyon requires 4X4 vehicles, snow tires or chains from November 1st until May 1st. Please note if you rent a 2 WD car you may be restricted from driving on the road. We normally get 500+ inches of snow per year. Please be aware of the weather conditions during your stay.
You are limited to TWO small SUVs and there is parking in the garage.